FABRIC PAINTING SECRETS...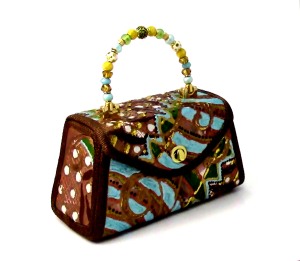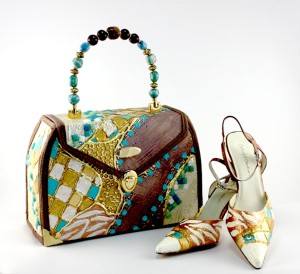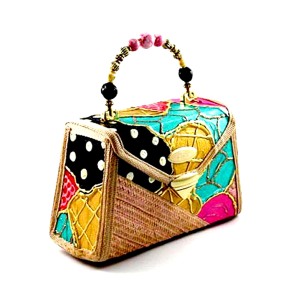 If you are serious about learning how to paint extraordinary designs on fabric for fashion accessories and more...you've come to the right place!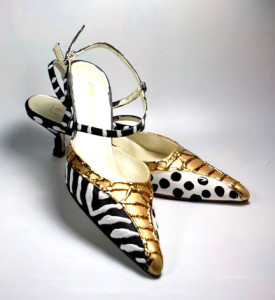 Whether floral or abstract... for purses, shoes or craft, my time-tested techniques will have you creating your amazing works of art in a matter of minutes!
Don't think you can?
I didn't think I could do this either…
My name is Teri M. Bethel and I'm a self-taught textile artist/fabric painter. I've always loved colors and textures so it was a no-brainer for me to paint tee shirts as an expression of my artistry. Simple, right? Wrong! It was not as simple as I thought but with my husband's encouragement (he made me feel like a genius artist) I bought loads of tee shirts and paints and began painting and selling them.
It felt as though I was in front of a firing squad!
Many sold but I hit a road block when I went to a local merchant hoping they would buy my beauties. What I got instead was a mouthful of hate from a very unkind store owner. It wasn't what she said to me but how it was said. My tee shirts were wrong, the paints were wrong and my application sorely lacking. But instead of being offended, I decided to flip her negatives into a positive by learning how to paint on clothes and how to encourage people to be the best they could be in doing the same.
No internet or tutorials available at that stage of my life…
We didn't have the internet back then so I did the only thing I knew to do. I flew to the USA to research the proper materials needed to create the designs I had in mind. Within a few months I was selling my painted clothing to a local boutique; a few months later, I opened my own boutique where we manufactured hand painted ladies resort wear. I could have quit after my first encounter with the heartless store owner but I decided to pursue my dream in spite of what she had to say. By the way, she did come to my store several times, her one-sided verbal attacks continued… she obviously didn't see how I turned her critical outbursts into an overcoming growth serum (ha ha).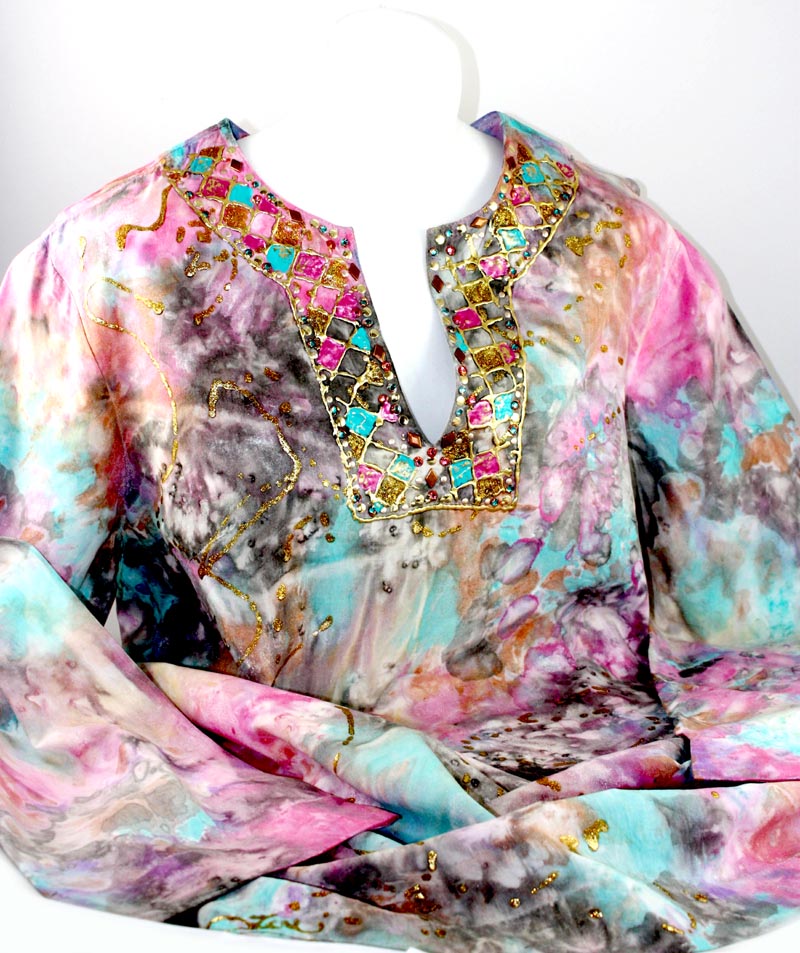 So where did it get me?
These painting secrets have helped me to launch a line of wearable art garments, create custom artsy couture handbags & painted shoes to an A-list clientele, develop a collection of DVD Tutorials and eBooks as well as to help to place my student's purses and products in an enviable position…
Where can this journey take you?
Glad you asked! As far as you would like to go and then some… You can begin painting phenomenal fabrics almost immediately… no experience necessary. Many of my students paint gorgeous fabrics for their handbags and clothing; others use my techniques to enhance their line of wall art for their souvenir gift shops and galleries. But whatever your dream, just be sure to know I'm in your corner cheering you on and providing the tools to help you take your products to a new level.
Now it's your turn to paint fabulous designs!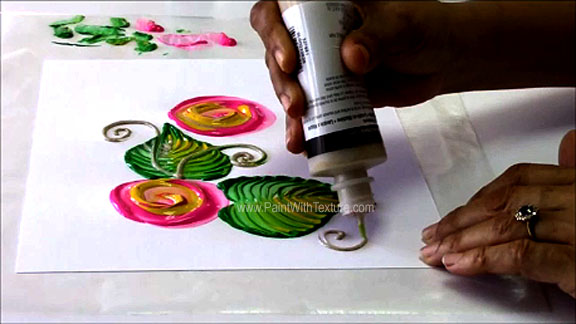 Here's what you get when you order my bonus-packed, hour long Textured Flowers DVD…
You get to know: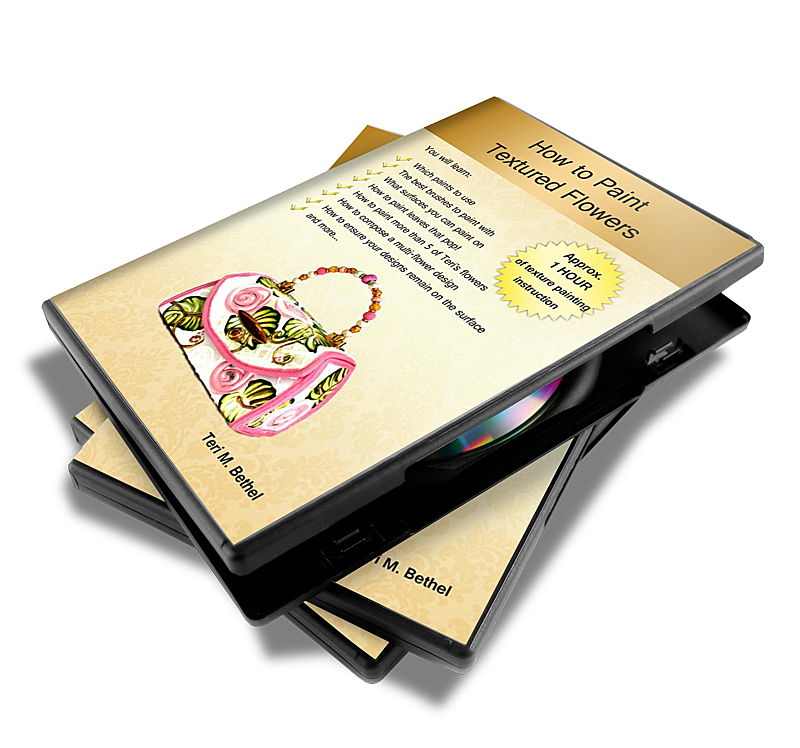 What paints I use to paint my scrumptious designs

The best paint brushes paint your designs with texture

My recommended materials to create your designs

What surfaces you can create your art on (not just fabric y'all)

How to paint yummy leaves that want to pop off your surface

The quick & easy way to paint more than 5 of my gorgeous tropical flowers

How to compose your multi-flower design

How to ensure your designs remain permanently adhered to the surface

How to blend colors in your flowers & leaves

and more…
Bonus DVD (Advanced Painting included!)
But that's not all you get… yes, there's more. When you order my incredible, easy to paint Textured Flowers DVD tutorial you also get (FREE Of Charge) my Advanced Painting DVD! Here's what I cover in this hour long power-packed collection: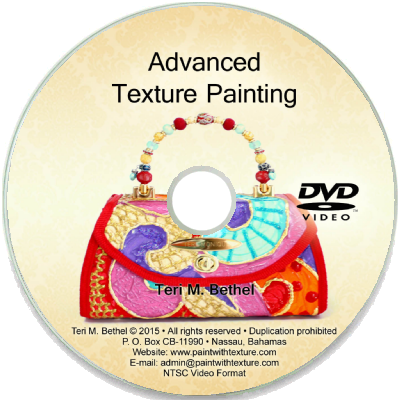 What basic materials are used to create my backgrounds

How to use simple household tools to create extraordinary designs

Watch me demonstrate how to paint incredible background textures

How to format your background textures into a riveting stand-alone design

How to add the foil look to your surface

The secret to keeping your paints from peeling off your surface

How to compose your designs to paint a masterpiece

And so much more…
Check out what my first time students had to say about their painting experience…
"My experience at painting with texture was both exciting and relaxing. Being a person of no artistic background and being able to paint what I did still amazes me. Thank you Miss Terry !!! I'm living proof of your saying that "you don't have to be an artist to paint with texture" C. Culmer

"Hi Teri, This course (painting) has opened a very new world of opportunities for me. The videos are just so good. Best thing that happened to me… Thank you so much Teri….for your guidance, it was a very motivating and an inspiring experience for me." Sundermai

"My attention was kept and I never got bored. I surprised myself with what I was able to create. Many thanks." S. Culmer




"Wonderful!! Will recommend to friends. I hope to carry my craft work to a new level with paints. Mrs. Bethel makes it seem easy. No stress, no worries." A. Bease

"WOW! I have become an artist in only 4 hours – this is amazing. I am working on my hibiscus: I actually dreamt about hibiscus and I'm determined to get it right… I am quite pleased with my beautiful paintings." C. Martin

"The class is very easy to follow and understand. It's fun and motivating. It has stirred up dormant creativity within me." L. Knowles

"Very informative- I was shocked with what I did with paint. I will be using it to make some money." S. Gardiner

"I loved the class. It's the best thing that has ever happened to me." D. Benson

"An excellent course. The instructor's instructions were clear and to the point." M. Smith

"This course has been exciting and inspiring…" M. Rolle-Honore'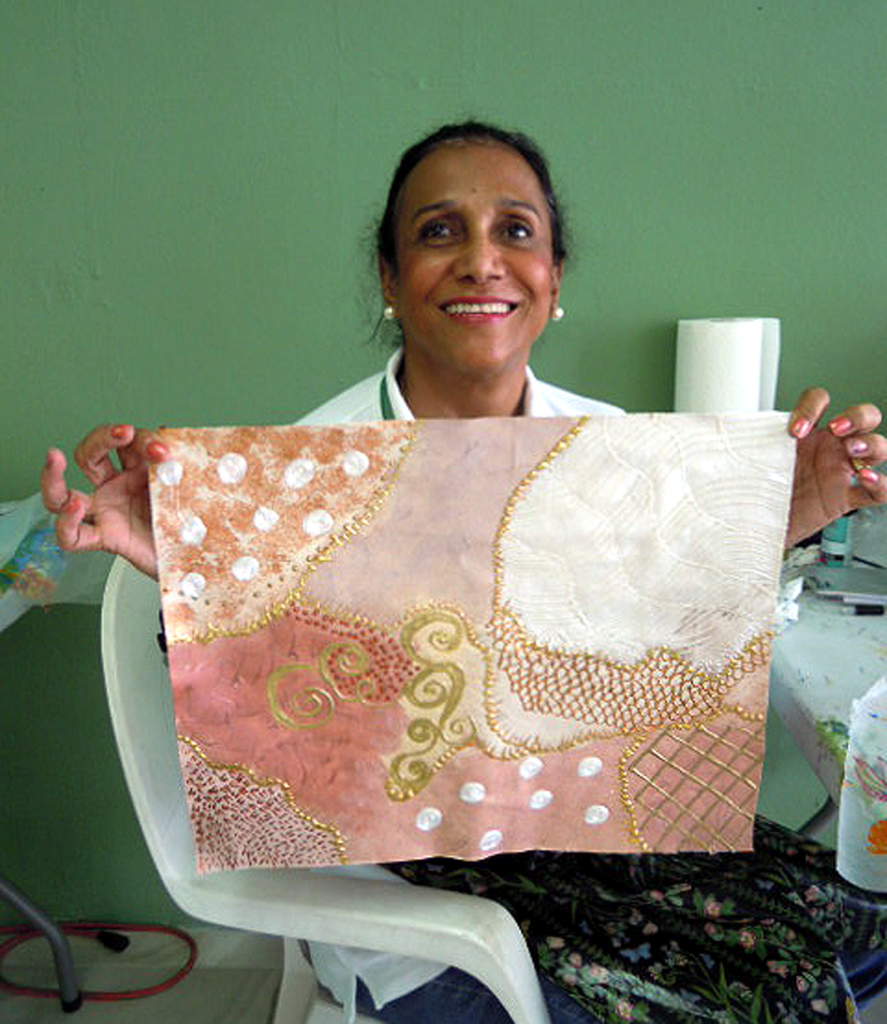 Scroll down to order our amazing DVD with the Bonus to begin your texture painting journey in minutes.
What are you waiting for?
The only thing standing between you and the success you deserve is your decision. So now it's up to you. You can, of course, go down the agonizingly slow road of learning by trial and error, facing costly mistakes and setbacks, and taking years to discover the secret to painting with texture. Or, you can start putting the winning techniques you'll find in my Textured Flowers & of course my "Free" Advanced Painting DVD's to transform your designs …
Remember, you don't have to:
Be an artist to paint with texture …

Pay someone else to paint your wares for you…

Go it alone… I'm teaching you each step of the way…

Take the hard road of teaching yourself (like I did)…

Invest lots of money to get started…

Put off your dreams another day…
Click on the blue "Buy Now" link to order your fabric painting tutorials now for only $57.99

P.S This is your last chance. Will you step up to the plate swinging or will it just be another strikeout? Don't you think you owe it to yourself? What have you got to lose? Don't put off your fabric painting dream another minute.
Here's to your Texture Painting Success...
Happy Painting!
Teri M. Bethel (Mrs.)
Design Instructor