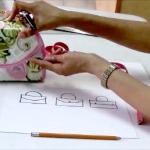 5 Simple Steps to Creating Amazing Teri Monique Structured Handbags-with very little sewing involved!
Sewing Teri Monique styled structured purses has been simplified in an easy step by step fashion. Below is a quick overview of the general steps you take to make your amazing purse. If you can turn on a sewing machine, you're well on your way!
Sketch your purse concept. This doesn't require art skills. 
Create your purse pattern based on your sketch. This is simple using basic tools, I'll show you how.
Place pattern on purse components (fabric, purse board etc.) and cut.
Assemble purse components and add hardware. Yes, it's as easy as pie when you follow my step by step instructions.
Sew binding on purse and hand stitch together for the complete purse. Your first major sewing and you're on the homestretch.
My pursemaking techniques are so easy you can begin making your designer purses from scratch today…and wear it tomorrow!