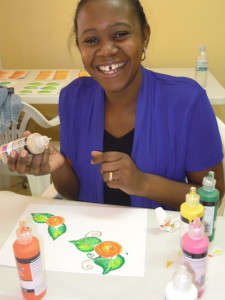 Texture painting students come from far and wide hoping to learn our simple painting techniques that would equip them with a skill to produce unique artistry. While the origin of all of the students is not always known, there are some students who share a little about themselves and where they are from.
The student we are showcasing today came to us with such an interesting story we thought we would share it with you. Unnigetty Mushonga (Unny) a native of Zimbabwe, Africa just happened to be reading the local newspaper in The Bahamas when she came across a picture of a beautiful straw handbag that caught her attention. It was then she decided she had to learn the art of making handbags.
Though just a visitor to The Bahamas for a relatively short period Unny decided to do an online search to find out how best she could learn how to make the amazing handbags. It was there she came across PaintwithTexture.com; she was thrilled. After contacting us, Unny discovered that PaintWithTexture.com also offered live painting and handbag making classes in The Bahamas; something she considered an answer to her prayer. Now, not only could she learn how to make the straw and painted fabric handbags but she could expand her range of production to make painted creations when she returns to Zimbabwe.
With economic uncertainty looming over the horizon in just about every nation in the world, there is an increase in persons interested in learning new skills to create other streams of income in areas they would ordinarily not have considered. This was the case with Unny as well as many of our other students who are seeking to refine their skills to create an income.
Had someone asked her if she would pursue art her answer (based on her experience) would have been a resounding no; she was, after all, trained in the medical field. Nevertheless she enrolled in the live painting class as a first step to making designer handbags. And though she was not inclined to art in her youth, she remained focused, followed instructions to the tee and painted an amazing flower within the first hour of the class.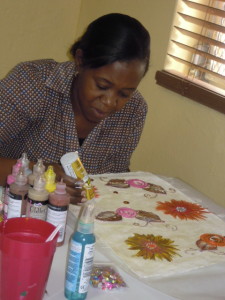 When Unny got the technique under her belt and painted a leaf or a flower she was proud of, she sat back, looked at her handiwork and grinned. Of course with the grin came "heh, heh, heh!" So when we heard 'heh, heh, heh', we knew she was pleased with her work.
As though learning how to paint flowers, leaves and fish in a day was not enough to keep a smile plastered across a face, Unny's favor increased. After casually showing her painting assignments to her colleagues, Unny received a request to paint her first commissioned work of art for a design she learned in class only two days earlier! Yes Unny like our other students is quite remarkable. The truth is. If Unny (formerly) a non-artist can learn how to paint such amazing flowers and fish in a matter of hours, we believe you can too.