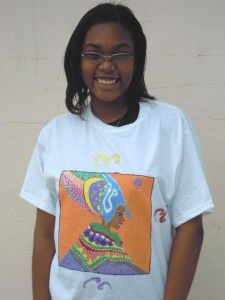 Yes young folks can begin making money too but you don't have to take my word for it. Ask 11th grade student Davette Morley a graduate of a recent Texture Painting Class in Savannah Sound Eleuthera. Davette is already selling her wares at the local venues held on the island of Eleuthera. And just in case you may think "oh that's a fluke!" Young Jada Carey a 10th grade student has also been selling her products along with her mom Jackie at every available opportunity.
You would barely know that these young ladies were in the class they were so quiet; but extremely diligent, I might add. There were three of them in total painting away to their hearts content.
Camille Culmer our third young student was visiting the island for a short time and had the opportunity to join the class. Camille who was new to painting thoroughly enjoyed the class, calling it insightful, therapeutic and rewarding.
On a recent trip to Eleuthera the reviews were in– the girls were painting on tee shirts, driftwood, bags and caps that virtually flew off the shelves. Oh and when they ran out items the special orders just kept rolling in.
Davette popped in to the class with one of her shirts in hand; it was an amazing, colorful Junkanoo design. No wonder they flew off the shelves. Just two months after the class and their designs had already matured. Davette's tees and her mom's new found passion for making custom painted bags was just a winning combination.
By taking the class the girls were being taught a valuable lesson from their parents.
Young people can create their own legitimate streams of income.
Time spent on the phone or in front of the TV could be redirected to learning a worthwhile skill.
You must be willing to invest in yourself if you want a brighter future.
Learn today so that you can earn tomorrow.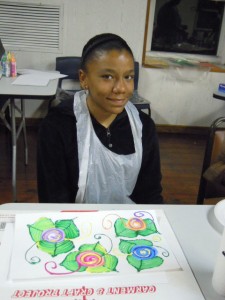 Invest is exactly what the girls did. Each night they came to class after having completed their high school homework assignments. The girls spent the evening with their moms and the rest of the class learning how to paint on various surfaces with texture. Jada and mom Jackie are busy painting their tees, neckties, caps and wall hangings and selling out at craft shows.
Now Davette and her mom Sterlene are keeping busy with creating their painted tee shirts and handbags. Davette has been known to paint on anything that would be still long enough for her to get at it. So her doors, blinds and even mirror are now embellished with paint. My advice to those who live in the house with these passionate artisans is to sleep with one eye open lest you awake to find yourself slightly enhanced.