There is no great mystique about sewing straw bags at home.
If you want to make a beautiful straw bag then a part from being creative you basically need to follow a few simple instructions in applying the straw. You can learn how to sew straw with our simple DVD. For the convenience of our students who would like to learn this process from the comfort of their homes, we have made videos available to teach the basics of sewing straw and making handbags. 
What Kind of Straw
The straw that I use in the video is our local Bahamian straw. It's grown and plaited in the islands of the Bahamas by independent artisans. You may have a similar straw in your country so you can use that if you wish. Using the millinery straw may be a little too narrow to make an entire purse using this technique. Though I'm sure a few inserts here and there could be quite effective.
Keeping it Simple Sweetheart (KISS)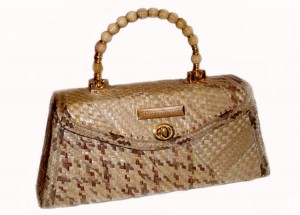 Sometimes as designers we can become too complicated in our design which only makes for a confused purse. When starting out you want to keep your designs simple. I like to engage in the KISS method – Keep It Simple Sweetheart!
So, begin with an easy design, choose a neatly plaited straw; they come in so many colors or in natural. Invest in simple but nice looking hardware. Purchase or make a set of handles for a nice looking finish. It's important to have good looking handles and a neat sewing job so your purse doesn't end up looking like a mama cut and papa stitch back room rush job. Always go for a professional finish even if your purse is home-made.
Another note in making your handbag is to have the proper tools for the job. A sharp pair of scissors is essential and of course a straight edge ruler. Remember your handbag is going to be as neat as your template/pattern. So if your pattern is wonky and twisted…then your purse is going to look the same.
Home or Commercial Sewing Machine?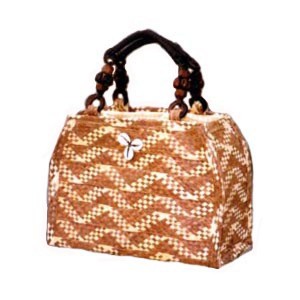 People often ask whether or not an industrial sewing machine is required for sewing straw. The short answer is no. But if you want speed/power and you think you are going to professionally sew handbags then you should seriously consider investing in an industrial sewing machine. These are generally quite well made so a good used model is more than adequate. Just have a sewing machine mechanic check it out prior to you purchasing it.