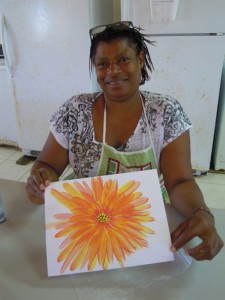 Two south Eleuthera vendors Mary Whylly and Juneninka Mackey signed up for the island's Texture Painting Class in Tarpum Bay Eleuthera. Their goal was to diversify and refine the souvenir and craft products they were offering to their customers on the cay.
Mary was a bright spot in the class with her constant surge of energy and infectious personality; a trait that attracted tourists to her stall on the cay. Now that she had their attention it was her goal to offer them what she considered was the best of the Bahamas; her customized embellished products.
Although raised in New Providence, Mary has been residing in South Eleuthera for approximately 16 years. Prior to taking the class Mary's craft of choice was straw bags. So when the opportunity became available to diversify her product with texture painting, it was a no-brainer for her. She signed up for the class right away.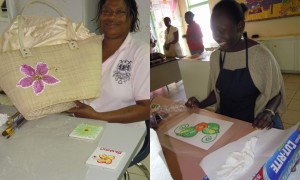 Once in, her by-line in the class after every demonstration was: "It looks easy, now let's see how easy it really is!"  This comment became Mary's trademark which sent chuckles throughout the class each time. Sure enough, without hesitation Mary took hold of the concepts and within the first hour of class was creating amazing textures and designs. Now Mary has an array of products she has developed in the class which she believes are sure sellers on the cay.
Crafting or painting was something that was quite new to our youngest student June a devoted young mother of one. Having recently relocated to South Eleuthera from Nassau, June was intent on developing herself to ensure that she had marketable skills to care for herself and child.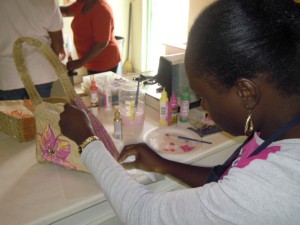 As a vendor at Princess Cay, June sold her wares to tourists at every opportunity. But rather than selling the same items as everyone else, June was determined to be different and create products that were uniquely hers and made in the Bahamas.
A quiet determination propelled June through the classes. She asked questions and painted until she felt she had perfected her technique. For June it was never good enough just to get by. She had to feel comfortable, be confident and master the skill to the best of her ability. The results were beautiful and meticulously hand painted creations.
June says that she has only been in the tourist business for a few months but has noticed that the customers are looking for unique items. This is why she was happy to learn how to paint with texture. "I'm inspired to be creative and original. I want to expand this business to make a better life for my son Adam and I." June plans on making her own designs to sell rather than selling just the normal items seen throughout the Bahamas.
Both Mary and June are looking forward to developing their products even more and are grateful for the training assistance offered by BAIC and the Craft Association of South Eleuthera (CASE). To register for upcoming classes contact your local BAIC island representative Mrs. Joan Stubbs at Tel.: 242-225-1783, in South Eleuthera contact Mrs. Andrea Carey at Tel.: 242-225-9087 and in Central Eleuthera Ms. Susan Culmer at Tel.: 242-332-2115.
For setting up a class in your area have your craft association gather a group and invite Teri over to share her texture painting secrets.