The Art of Painting Shoes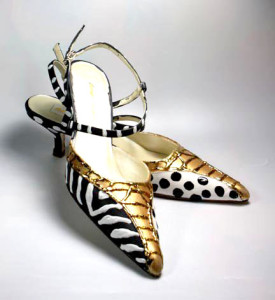 In this class students will learn how to transform a basic shoe/footwear into fabulous walking works of art.
Class duration: 6 hrs. (3 sessions at 2 hours each)

Class size: Up to 8 students per class.

Cost: $159.00 (kit Included)

Other required supplies (not included in kit): Paint brush (from basic class), up to two plain fabric shoes preferably white or ivory.

Requirements: Students must have satisfactorily completed The Basics of Painting Fabric with Texture .

Schedule: contact us to book a class.