In the tropics and beyond there seems to be a love for fish. In our region, The Bahamas, we have a virtual underwater playground of the most magnificently colored fish.  What make it so incredibly easy to be captivated by the fish are our clear, (transparent) waters. I'm not kidding…take a look at this picture below.
Though I may be partial to our waters and of course the beautiful fish I am not alone in admiring and appreciating its beauty. Now I know that beauty is not just within our shores. Amazing looking fish can be found around the world and probably in your very own backyard.
For those of you who are not near the water as some of us are yet you want to sketch and paint fish designs, there are a number of books and I daresay pictures of fish on the internet that would captivate you for hours on end.  So if you don't have access to the live, let's get started with the virtual and begin sketching and painting amazing fish designs.
The main thing is to relax and enjoy yourself when you are attempting to paint. Instead of pouting when you make an error, move on; it's also okay to have a good laugh. Really don't take it all too seriously. Grab another piece of paper and begin again until you have the look you are after.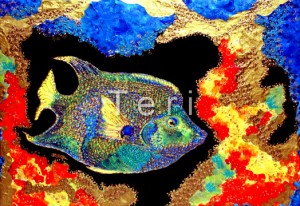 I began painting fish many years ago without instruction; I woke one day and wanted to paint a fish so I looked at pictures and adapted them to what I wanted to see. After a few weeks of painting I realized I was laughing less at my malnourished sea creatures and smiling more at their uniqueness.
What would you do with your fish designs? Well for starters you can create original or printed fabrics, wall paper, resort wear, custom tees or even a line kitchenware that features your artistry. So jump in, it's time to get your feet wet.