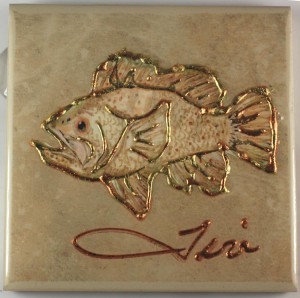 Though textured painting is featured primarily on clothing and fashion accessories, it is in no way limited to these surfaces. For the new or seasoned crafter, painting with texture is just one more way to add excitement to your product.
Some years ago I created a line of souvenir dolls made of wood. These were individually hand painted with paint to create an amazing textured finish. But wood is just one surface; how about coconut shells, sea shells, sheet metal, tile, glass, vinyl, sand… The answer is yes to all of the above and more. So whatever your craft the techniques applied to paper and fabric can be applied to another surface.
While it is a simple process to paint on these surfaces the next consideration is how to maintain your surface. Think about the function of your item. Is it something that will be banged around or will be in an area that can get dusty or rained upon? Then for this reason and perhaps more, you will want to consider preserving you artistry with a clear protective coating. This coating allows your product to be handled with out fear of being easily damaged.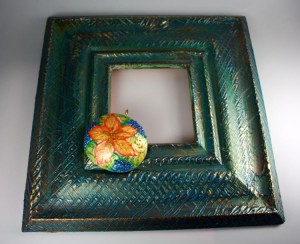 Many crafters choose a resin finish on their products. A resin can be lightly applied or heavily applied for depth. In most cases when properly applied, resin give a rich almost candy-like finish to the product. The added benefit is protection and value added.
So go for it; let your creative juices flow. Begin using your natural elements or recycle your trash and make it a beautiful treasure. In any event just a little texture painting can transform your work into a magnificent piece of artistry. Oh, and that's what we want, isn't it?