The Art of Painting Tee Shirts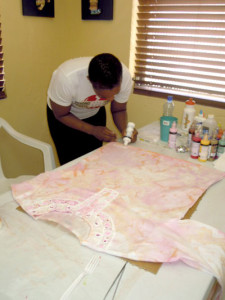 In this live tee shirt painting class students will learn how to paint and embellish original designer tee shirts for pleasure or for profit. Classes are power-packed with unique techniques to make your tees stand out. Our classes are small for individualized attention. Contact us to confirm availability. Classes are reserved on a first come, first served basis with accompanying payment.

Students receive kits at the beginning of the class.
Class duration: 8 hrs.  (4 sessions 2 hours each.)

Class size: Up to 4 students per class.

Cost: $179.00 (Kit Included)

Other required supplies (not included in kit): Paint brush (from basic class), 3 pre-shrunk or pre-washed tee shirts (1 black, 1 white & the other your choice),

Requirements: Students must have satisfactorily completed The Basics of Painting Fabric with Texture.

Schedule: contact us to book a class.