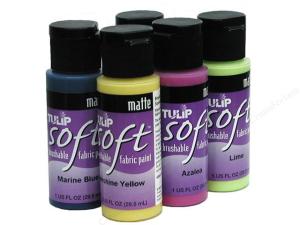 There are numerous fabric paints & art supplies on the market today; specifically great paint for clothes. Although many may be used interchangeably, there are some fabric painting techniques that require a specific type of paint to effectively achieve specific results. Your paint choices would greatly depend on the look you would like to have when you paint fabric.
So what is fabric paint and how does it differ from any other paint? Well, fabric paints were specifically designed for permanent application on fabrics. They bond especially well to natural fibers but can be used effectively on synthetics. The final setting of these paints varies as it depends on the type of paint you are using.
Paint Applicators
Paints can be applied a number of ways; the most common way being with a paintbrush. Other paint applicators include rags, sponge brushes, sponges, and fabric paint pens, spray paints, tube paints; really applicators can be a myriad of handy things you find around your home.
Among the top name brands of fabric paints on the market today are Tulip paint, Jones Tones, DecoArt, Scribbles and Setacolor. That's not to say that the others are not good; as an artist you simply begin to develop preferences that best suit your application and style.
In selecting which fabric paint is best for you, first determine which fabric you will be painting on. This will give you an idea of what is better suited for what you are hoping to achieve. Dyes are quite different from paints although they can be used as paint in many applications. Specialty paints such as these come in various consistencies. Some are thick while others are thin and runny almost like water color or silk paints. Most of the paints can be diluted.
Dimensional paints
Dimensional paints are thicker than most. These paints are typically raised when applied to the fabric. They are not the type of paint that absorb into the fabric and become flat but can be brushed flat. The base of the dimensional paint is a binder or glue substance. Color pigments are premixed in the binder to form the paint which come in a variety of colors and looks. Among the finishes are metallic, glitter, pearl, gloss, neon, matte and more depending on the manufacturer. This style paint is a favorite for artist who love to paint on fabric.
Spray Paints
Spray paints are a thin liquid dye-like substance that can be sprayed onto the surface. Non glue based paints can be diluted to create a spray paint to paint fabric. You should note that too much diluting can alter the intensity of the color after it has dried. Spray paints can be purchased in ready to use containers.
Soft Non-dimensional Paints
Soft non-dimensional paints are a full bodied water-based paint. Depending on the brand, these paints can be opaque which are highly recommended for painting on dark fabrics; but wonderful on lights colors also. Check the labels for further details regarding opacity and heat setting. The soft paint is usually true to its name, leaving your fabrics soft to the touch. This is a plus when painting for infants or creating interior décor items.
Silk Paints
Silk paints are typically vibrant paints that are used primarily on silk fabrics but can also be used on cottons, wool and some synthetics. These paints are used primarily for the silk painting and serti techniques. Some silk paints work well with the tie dying, batik and water color techniques also.
Puff Paints
Puff paints run in the family of dimensional paints. These can be applied directly out of the container to create line art or to be painted with a brush. It's in the drying that this paint stacks up to its name. Once dried and heat is applied, the paint puffs up. There are some colorants that can be added to a puff paint base to custom color your puff paint. Puff paint can be quite effective when lightly applied as its texture is somewhat unique. Though this type paint has been around for quite some time when the proper fabric painting techniques are applied this medium can be very attractive.
Airbrushing Paints
Airbrush paints are thinner pigments of paint which allow for a smoother flow of the paint through the airbrush. These paints are diverse as they are used for many purposes. There are oil based and water based paints used for the airbrush techniques. The water based airbrush paints can be used interchangeably with silk, watercolor and marbling. Many artist use this technique today to paint on clothes.
Paint Pens
These pens come in an oil base or water based acrylic. There are also several paint tips available for broad or narrow strokes. Paint pens are ideal for outlining designs, creating patterns and highlighting artwork. They are particularly handy when designing small areas where more control is needed. Because the are available in oil or water, paint pens can be used to paint natural fabrics, leathers or synthetics. there are lots of art supplies to choose from so choose your fabric paints wisely.