Well here's an artist who is thrilled about making a bride's wedding day special with her original painted shoes.  Miranda makes it her business to break free from the ordinary and have her ever so special shoes declare, 'here comes a beautiful bride'!
Artist: Miranda Marie Storer
Our visitors would love to know where you are from? Virginia, USA
Where are you currently living (country)? Arkansas, USA
What is your product's brand name? Love, Miranda Marie Shoes
What products are you featuring? Footwear
How can customers purchase from you offline? Right now, I'm just online since I'm still a new business.
What is your online product link? lovemirandamarie.etsy.com, lovemirandamarie.blogspot.com, facebook.com/lovemirandamarie
Will You Make Custom Goods for Your Customers? Yes, always!
What is the price range of your product? $180.00 – $250.00
How Long have you been creating your product? Since September 2011
How did you get started in this field? One of the most beautiful moment's in my life was two years ago when I walked down the aisle to marry my best friend, David. The only problem was, most wedding shoes I saw in stores were plain, white, and bland. But what I realized a year ago, when I started my business, is that they don't have to be! My goal is to make each bride that I work with feel like their shoes are an extension of their gorgeous personality. Just like a bride, each pair of Love, Miranda Marie Shoes are different and beautiful.
Our visitors would love to hear more about your experiences. I actually wrote about this on my blog recently. I'd have to say that the most treasured memory I have about my hand painted shoes is the first time I saw them on a bride. But not just any bride, she is my childhood best friend.
Tears welled up in my eyes, when I helped her slip on the shoes I designed for her. She was the most beautiful bride I had ever seen. For me, the shoes were not as important as the woman wearing them, but I was honored to see her walk down the aisle with them on and with the most dazzling smile on her face.
How should interested persons contact you for your amazing products? Contact me through lovemirandamarie.etsy.com, lovemirandamarie.blogspot.com, facebook.com/lovemirandamarie
Your designs are fabulous & show great promise, where would you like to see your products in the future? I work one-on-one with my customers, because each bride is special to me. I don't seek fame and fortune. If  I can make just one bride's wedding day more special, then all of it is worth it to me.
We wish you the greatest success with your business Miranda!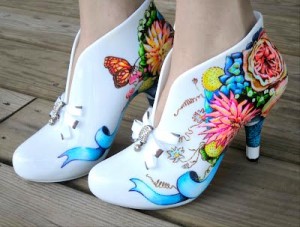 So there you have it… Love, Miranda Marie Shoes, a treasured bridal keepsake. Be sure to contact Miranda and let her know you saw her designer shoes right here on PWT! Click on the Facebook Like button to share with your friends.