Designing a Junkanoo themed purse, clothing or a costume that you plan to wear in the spectator stands or as a part of a major group can be a thrilling experience. While the materials used in Junkanoo have evolved over the years what holds true is the glitz and glorious use of color at the parades. Yes the jaw-dropping designs are made to stand out above the rest with a spectacular use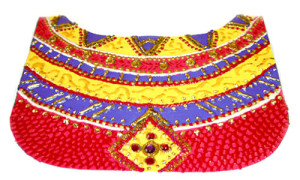 of colors, textures and materials.
Painting your Junkanoo Designs
Today as in the past, people from all walks of life are getting involved in the creation of Junkanoo costumes. Now that Junkanoo has wooed the participation of a number of the local schools into the Junior Junkanoo parade the craft has developed in yet another dimension.  This has caused seasoned Junkanoo artists to stop and take a look in admiration of what is now coming forth from the new generation of trend-setting Junkanooers.
A nifty take on the Junkanoo costumes for year-round use is the introduction of texture painting on tee shirts. While for many years it has been the holiday outfit of choice for ladies who wish to step out in their glitzy colorful designer tees; Junkanoo has now grown off the parade and into souvenir items and trendy fashion.
Embellishing for Junkanoo Art
Of course we're not talking about wearing the cardboard and the lavish headdress. What is stepping out is the texture painting techniques used in garment painting for the creation of clothing and handbags with a Junkanoo flavor. Now that does include a hearty dose of studs and rhinestones for those unafraid of sparkling.
Similar to building a costume, painting a design on a tee shirt for Junkanoo takes a little time, a few a basic materials and a some insights. To create your Junkanoo outfit be sure to use fabric paints so that your garment looks freshly painted for several years.