Click on the photo to enlarge
Meet our Featured Artist James "Jimmy" Olea. James paints one-of-a-kind pieces of art which he says will surely cause shoe envy! Each pair of Sh'Art Heels are creatively hand painted with patience and love.
Artist: James Olea
Our visitors would love to know where you are from? United States
Where are you currently living (country)? United States
What is your product's brand name? Sh'Art
What products are you featuring? Footwear
How can customers purchase from you offline? Our sales are made online.
What is your online product link? www.shartdesign.etsy.com
Will You Make Custom Goods for Your Customers? Yes!
What is the price range of your product? $130.00 – $200.00
How Long have you been creating your product? A little more than a year.
How did you get started in this field? I'm a tattoo artist for a living and a drawer/painter for fun. My wife asked me to paint on a pair of her heels…..
Our visitors would love to hear more about your experiences. As we are fairly new we don't have any memorable stories quite yet, my wife and I.
How should interested persons contact you for your amazing products? We would love it if you would contact us on Etsy. (See link above.)
We wish you the greatest success with your business!
Thanks!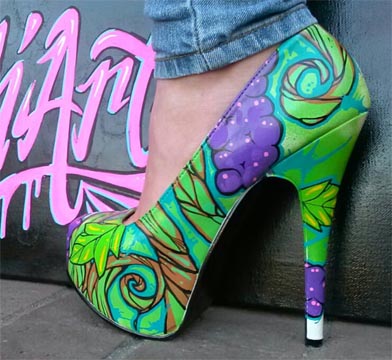 So pop over to James and let him know you saw his gorgeous shoes right here on PWT!