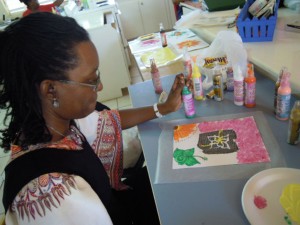 Reading about the graduates of a recent texture painting class in a local journal was all Sherelle Wallace needed to get her started on her exciting and colorful journey. Well, not literally colorful… I have to smile when I say that because no matter what color Sherelle painted, she somehow weaved a little bit of black in her finished pieces. Though it may sound odd to many, I assure you the outcome was quite stunning.
The students of the South Eleuthera class and I had an opportunity to chat before jumping into the assignments. Coming from New Providence, I was able to find out a little more about the hearts behind the hands that held the brushes in Eleuthera. The class was smaller than usual but that worked in these students favor. Compared to Eleuthera, New Providence has the largest city (Nassau) though its size is a wee 21×7 miles. Approximately two hundred thousand people live on the island; about 60% of the entire population of the Bahamas, and its city bustles with traffic.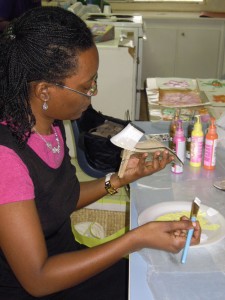 Eleuthera is much different; it's more rural, spacious…it's a place where you actually feel like you have space to breathe and move without congestion. It's a place where most people smile or wave as you pass and ask "how are you?" It's a place where the locals feel comfortable hiking from one end of the island to the next if necessary. This I guess is just another wonderful characteristic of our Family Islands.
Though the island has most of the modern amenities found in Nassau, it is completely void of public transportation. This, however, did not deter the students, who enrolled in the texture painting class. Every day those who did not have available transportation packed their Georgie bundles and hiked their way to class almost an hour's drive away.
That's not what most would do in the city, but in Eleuthera, an island of perhaps 8,000 people living on 110  miles of land, you kinda get to know most of the names and
just about all of the faces in your neck of the woods. So hiking is the accepted norm.
Green Castle a settlement in the south is where Sherelle was born, raised and lives. Sherelle used to be a Customs Officer with the Bahamas government but her passion to write and create beautiful things propelled her to open a gift shop and library. As a result Sherelle followed her heart and made a career change to begin her life in the arts.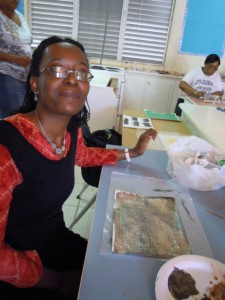 Whether she is making handbags or items for her gift shop and library in Green Castle, Eleuthera or writing yet another book, Sherelle jumps in with bucket loads of energy. Now that Sherelle has her texture painting class under her belt, she is excited about using it to enhance her crafts and a new line of clothing she is working on. So between her painting and combing the beach for indigenous products to use in her work you will have to pop in to see Sherelle at her gift shop, Enchantment, at the local farmers market and handicrafts shows or visit her on Facebook to see what she has been creating.