Almost nine months ago our Featured Artist/Designer Dianne Edwards was completely new to fabric painting and making handbags. Within two months of learning how to paint and make handbags she was already selling her wares to her customers and even the postal worker who came to deliver a package. Now that you've seen what Dianne produces you can imagine why her orders are flowing in.
Artist/Designer: Dianne Edwards
Our visitors would love to know where you are from? USA
Where are you currently living (country)? USA
What is your product's brand name? Dia Designs
What products are you featuring? Handbags
How can customers purchase from you offline? Contact me directly through Facebook to view my products or place an order.
What is your online product link? http://www.facebook.com/pages/Dia-Designs/351387231542245
Will You Make Custom Goods for Your Customers? Yes

What is the price range of your product? $25.00-$250.00
How Long have you been creating your product? About nine months
How did you get started in this field? I had the privilege of seeing the work of a gifted purse maker that was willing to share her talents and while learning her techniques, I just took off and here I am today…loving what I do. 
Our visitors would love to hear more about your experiences. I have lots but the one that comes to mind is that my cousin didn't believe that I had made the purses.  She loved them but said that I had purchased them and was just fooling her and pulling her leg. She is now one of my biggest fans.
How should interested persons contact you for your amazing products? You can email at Dianneedwards7149@msn.com or contact me on Facebook at http://www.facebook.com/pages/Dia-Designs/351387231542245
Your designs are fabulous & show great promise, where would you like to see your products in the future? I'd like to see my designs sold in boutiques.
We wish you the greatest success with your business!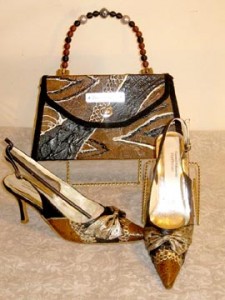 Dianne believes in looking nice for special occasions but now with her new line of handbags and coordinating shoes (optional) her customers are loving her bags for everyday wear too!