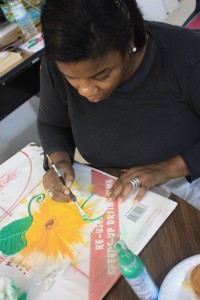 I walked into a room charged with great expectation and smiling faces. At this time of the evening having to wait for me to arrive from a flight that was delayed several hours had not dampened the student's zeal.
I felt immediately refreshed. This group's hunger for the skill that was promised them kicked up a level of energy in me that I thought had gone AWOL sometime during my third hour of waiting for the flight to be called.
After a brief introduction and an exchange of pleasantries we dove right in to the subject matter- The Art of Painting with Texture.  Exuma was ready just as BAIC's Handicraft Department had said. While two of the students were artists, the others were either creative in other forms or persons wanting try their hand at something artistic for the first time.
Some of the basic techniques were shared and mastered that evening but the next day the students came with even more determination. By the end of day two squeals of delight were heard throughout the classroom as students hit the "I got it" moment. Our chief squealer was Charisse, a bubbly, diligent student. To hear her laughter was a signal that another aspect was mastered and she was simply blown away with what she had painted.
Quite frankly, this didn't seem like a class. It was more like a girl's night out party, complete with all the delicious snacks brought in each night by the students. We didn't have a DJ but the laughter, soft chatter and the odd bursts of quiet singing was all the music we needed.
By mid-week students were painting amazing textured surfaces. Some looked like exotic snake skins while others were delightfully tropical. One design looked like it was prepared for a bride while across the room a lamp shade was being painted that was fit for a 4 star hotel. No matter what was painted, each artist allowed their unique personality to shine through.
Barbara, a first time artist blew us away with her painted vase, Ms. Lloyd painted a beautiful seascape on a portfolio trimmed with straw. Others painted on wood, caps and other materials. Every student had taken hold of the techniques and applied them as though they were seasoned artists.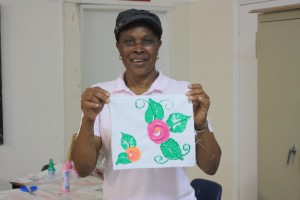 Before the class was over products were already being prepared for their businesses and craft shows. Ideas were buzzing for new ventures and orders sent to Chevy's for additional supplies to produce their inventories.
Another of the students was Cleo; her vision was to expand her product line in her home furnishings and gift store. Cleo was game to applying her new skill to a variety of surfaces including wall hangings and wood art which she made "pop" with her new surface design skills.
It was heartwarming to see how these newly equipped Bahamians could produce unique artistry in such a short time. No longer were they just a group of ladies hungry for a new craft experience; they had learned the skill and were ready to convert their ideas into marketable products for their businesses.