Do you know how to paint on fabric to make a bag or other fashion accessories?
What am I talking about here? Well for the most part, ladies love their handbags, hats, belts and shoes. Most ladies also love to know that their handbag is unique. One way of achieving this uniqueness in design is to paint your fashion accessories with clothes paint, a simple element in your art supplies.
I really don't know anyone who enjoys going out dressed to the hilt only to find your twin…someone dressed just like you. What a feeling! But what an even better feeling to know that you're wearing an original design painted on fabric; and one that was created for you or better still, painted by you.  More ladies and guys are jumping in on the creative process of designing handbags and painting fashion accessories; some for fun others for profit; and both just loving it!
As there are countless women all over the globe learning how to make  a bag the next obvious step in the design process would be to add value to your purse by painting and adding texture to it. Although sewing is an added benefit to this process it is certainly not a must as there are countless handbag and fashion accessories designers just waiting for your call. A key element to consider if you are not a sewing enthusiast is to design your own fabrics and then find a sewing contractor to create a custom purse for you. Another option is to paint on a ready-made fabric bag.
Create A Purse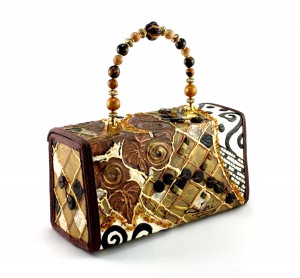 Consider this. You have some fabric that was left over from your latest sewing project; or it's a piece of fabric you just went out and bought. Well, whether it's a print or a solid you wish to have an exciting handbag to go with your new outfit. So, here's the novel idea! If your fabric is a print, consider taking your paint pen and outlining your design to create a custom look or start from scratch and create your original design to coordinate with your outfit.
Coordinate is the key word here. In designing you don't want to match but to coordinate by pulling out key elements from your design. Select the main colors you wish to work with and create a design theme around that. If your garment is a solid then you have more freedom in expressing creativity in your design.

You don't have to be a purse designer to create a purse. You can actually learn how to make your own purse pattern… it's super easy. Now with your clothes paint it's even easier to learn how to paint. So now you can paint easy abstract designs to make your purse. So now you know how to make bags with cool fabrics.

Painting Shoes
But why stop with the purse. With the same colors you can add a bit of pizzazz to your footwear, belt or even a hat.  Any accessory is fair game in fabric painting. If it sits still long enough to get at it, then paint it. Whether its boots, shoes, sneakers or slippers; the paint process is simple and easy. Paint directly to your footwear or find a custom shoe maker. Yes they still exist. If there's not one in your city, do a search on the internet, you'll be pleasantly surprised with what you come up with.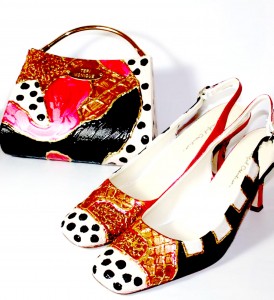 Get creative, there's absolutely no limit to what you can create with a little bit of imagination and a couple containers of paint. Now step out in style, wear your creations especially if you are creating for profit; it's the best form of marketing within your circle of friends.
For Men
Have you noticed that men are becoming more fashion savvy today than ever before? They are stepping out in style. Some men are daring to move away from the tradition neckties to the, oh, so funky painted and rhinestones accessories. Not all are loud, but many are bold and quite beautiful.
Men's shoes have gone to a new level with the vibrant colors and textures in sneakers, casual and dress shoes. The top has been blown off and the fashion bar raised, as men are willing to express their creativity in their wardrobes. So what are you waiting for guys & gals? It's time to learn how to paint on fabric to create your new exciting wardrobe.