Painting a Cigar Box Purse
Of course a pun was intended in using the above title. What we are seeing around fashion circles today is a trend in accessorizing outfits with a gorgeous box bag. The fun part of the design and decoration of these nifty purses is that there is no limit to your creativity in designing the outside of your box.
Why Paint a Box?
Box purses are not new to us. In fact, they have been around for more years than I would like to count. Boxes of all shapes have been upholstered, jeweled, decoupaged, stamped and even painted—many creative people begin with the transformation of an old cigar box. Regardless the shape, size or color, one thing is certain, there seems to be a style for everyone.
The beauty of creating a box purse is in not having to sew if sewing is not your cup of tea. This proves the point that much can still be done with little if only you choose to think beyond the established norm.
Some purses give the appearance of antique artistry having been embellished with old world charm using burnt oranges, gold and a myriad of rustic colors and ch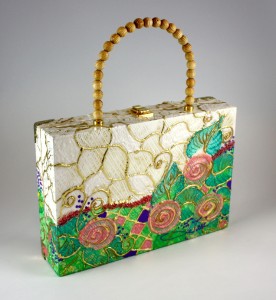 arming braid trims; not to mention being topped off with antique replica gems set in burnished mounts and hardware to give that popular vintage look.
But if the old world look is not drawing you in, perhaps a more subtle theme of flowers or an art deco look of bold abstract colors may be more up your artistic alley. In any case, whatever your style, you may wish to apply it to the outside of your box to come up with yet another super purse design.
Another consideration in designing your box purse is the choice of hardware. Choose your hinges, closures and handles wisely. After making your masterpiece you will not want to install mediocre finishes that bring down the value of your product. Think quality; always make an effort to produce quality. Also know that quality does not necessarily mean costly.
For those of you who want to take your purses beyond the basic craft project look, you may want to consider our painting class that would take your skills a notch higher which could place you in the professional artist category. At this level, you can produce designer purses for the art lovers market. Not only will this give you a head start in painting a box bag, but it will also help you to focus your amazing style on what matters most; and that's designing outside of the box.