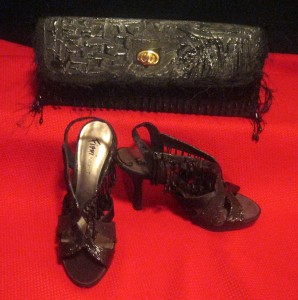 Dianne Edwards of  Milwaukee, Wisconsin, USA is a fashion designer who is passionate about taking her craft to new levels. I was contacted by Dianne concerning the Paint with Texture tutorials I offer online. Dianne's immediate interest was learning how to paint with texture so she signed up for the class without hesitation. Shortly after, Dianne had joined our handbag making class. She is now making beautiful painted handbags the Teri Monique way after approximately one month of online classes.
When Dianne first inquired about the class, I had a quick glimpse at what she had produced. Stunning workmanship, detailed finish work of the highest order is what I saw. After being enrolled in the Texture Painting Class I asked Dianne for an interview. Read and enjoy our conversation below.
Teri: Dianne,what would you call your brand of artistry?
Dianne: I don't see myself as having a particular "brand" of artistry.  I just like stretching and expanding my creativity by doing all sorts of arts and crafts.
Teri: What got you started with this amazing work?
Dianne: As a young child growing up, I would see my grandmother and her daughters ( including my mother) make beautiful clothes and quilts and all kinds of neat things.  I admired their abilities, especially my grandmother's and she would always spend time showing me how to cut dress patterns from newspaper and that is a memory that I keep with me.  In a nutshell, it is a way of honoring my grandmother.  She is no longer living, but what she taught me lives within me and comes alive each time I create something.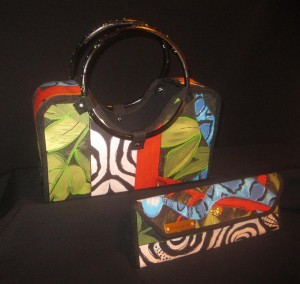 Teri: How long have you been involved with art/crafts/sewing?
Dianne: I started at a very young age.
Teri: Are you a full time or part-time crafter/designer?
Dianne: I am a full time crafter/designer.   I enjoy creating things and it can also be very profitable.
Teri: I noticed that you are selling your work, when did you realize that your artistry had become a hit?
Dianne: When I was about 16, my friends mom's would ask me to make their suits and special occasion outfits.  I made all of my clothes around that time and so, people would just ask me to sew for them too.  At first, I just did it without charging them  because it was fun.  I started sewing so much for others, I didn't have time to do much for myself.  I realized that I had a good thing going and so I started charging for my services and so here I am today.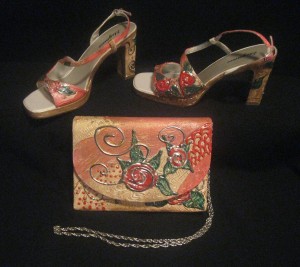 Teri: Where do you get your inspiration from to create your designs?
Dianne: Magazines, television and people.
Teri: What kind of atmosphere do you work best in…quiet, music, activity?
Dianne: I like to work with music, especially gospel.  If I am working on something that is extremely challenging, I like it quiet.  Most of the time I have CNN on so that I can keep up with world events.
Teri:What is your favorite material to work with?
Dianne: I don't have just one favorite.  I like working with woolens for coats and suitings.  I am fascinated by the natural and raw fibers.  They take a little more care in handling but there are so many beautiful natural fibers available.  I like working with leathers and acrylic knits too.
Teri: How would you describe your style?
Dianne: Unpredictable.   That comes from my clients and people that I know.  They always say, "Is there anything you can't make or do?"  I don't have a particular style.  I see it or think it and I try it.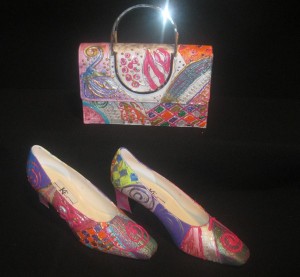 Teri: Has your style evolved over time and in what way?
Dianne: I think that I have expanded my abilities to create more things.  For example, I am taking your wonderful classes on textured painting and purse making and your techniques are ones that I can use and incorporate in my other arts/designs.
Teri: What do you find most rewarding about creating your products and painting?
Dianne: I smile each time I complete a project.  I was elated when I realized that I could paint and it looking good was an added bonus.  I was also very happy to make my first structured purse and see how well it looked.  I can't wait to finish my first line of purses and bags, inspired by Teri Monique.
Teri: Are you a self-taught artisan or did you study the craft?
Dianne: Self-taught.  My formal education is in Professional Communication, which helps with PR for DiaDesigns and my new page that I am developing.
Teri: Have you ever felt like throwing in the towel; what kept you working at your craft?
Dianne: Every now and then, I get a difficult customer and that dampens my enthusiasm for a minute or two.  I like what I do and so many others do too.
Teri: What is your career highlight as a crafter/designer?
Dianne: I designed the wardrobe for Ms. Black Wisconsin, years ago and that was a memorable highlight as a clothing designer.  I was also asked by Ebony (well known and established  African-American owned magazine) to submit drawings of some of my designs for consideration for entry into their next year's fashion show. (I just couldn't do it, my sons were young and in school and my family needed all of my time and my husband thought it would take me away from home…etc. )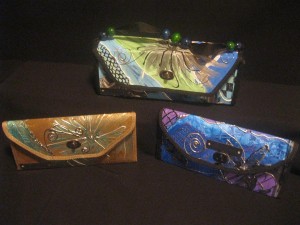 Teri: What advice would you give to folks interested in getting started in the art/craft /sewing field?
Dianne: Go for it.  Find a good mentor and do a little research to be sure what it is you really want to do.  I do it all.  I sew, embroider, make jewelry and now expanding to hand-painted purses, shoes and accessories.  I would suggest that a newbie start small and then expand.  There are so many skills that can be applied to different art projects.
Teri: Do you participate in craft shows?
Dianne: Yes.  This is a good public relations tool for me.  It provides opportunities to network with other artists and you an gather lots of good leads and information regarding the more lucrative events.
Teri: How long have you been painting?
Dianne: For about a month and I love it.  I have bought so many different colors of paints and learned so many ways of texturing.  And one good thing is that paint can be used for a long time.  I had some really, really old paint in my studio and it is still good.
Teri: What stirred your interest or got you started in painting?
Dianne: Well, you did.  I saw your stuff and I couldn't even sleep that night.  I told my husband about these beautiful bags and purses I saw and he said, "Ah you could do that too."  I said to him " you gotta be kidding me…not that."   So, that next day, I in-boxed you and the rest is history.  I still have a ways to go but I feel really good that my things are looking pretty good, for a novice.  I am going to populate my page with Teri Monique inspired purses, bags, shoes and yes jewelry too.
Teri: As a student of PWT kindly describe your painting & handbag class experience.
Dianne: Teri, when I watch the videos, it is like being there with you.  Your voice is so calming and you speak so clearly and anticipate any questions I might have.  I understand exactly what you are teaching and you make learning easy.
Teri: How has painting with texture influenced your work?
Dianne: Expanded what I can offer my clients.
Teri: Where would you like to see your creations go?
Dianne: Unlimited possibilities with no restraints.
Teri: Is there anything else you would like to let our readers know?
Dianne: On inspiration:  Sometimes all it takes is to go outside of your comfort zone.  When creating beautiful things you will be inspired to create even more beautiful things.
Teri: How can interested persons purchase your work?
Dianne: Facebook: Dianne Edwards, Dia Designs or Diadesigns@msn.com