The Art of Making a Clutch Purse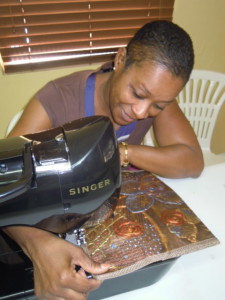 In this live class students will learn the art of making a clutch purse (styles) with fabric using the Teri Monique techniques. Students will learn how to design their purse, create a pattern and sew a designer handbag using proven techniques and quality materials. This class is for hobbyists or persons aspiring to create their own handbag line. Students are encouraged to develop their own unique product line. Register today to learn the basic skills in bag making.
Class duration: 8 hrs. (4 sessions at 2 hours each.)

Class size: Up to 4 students per class.

Cost: $266.00 (Kit with basic tools included for 2 clutch purses- does not include ruler, scissors etc.).

Other required supplies: Portable Sewing Machine.  (Portable available for rent during class)

Requirements: No previous experience required.


Schedule: contact us to book a class.