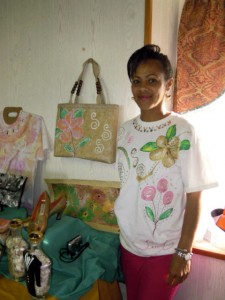 Multi-talented is perhaps an understated description of the people taking the texture painting class in Central Eleuthera. A common thread throughout most of the students regardless of their profession was that they all were working on a second or even third stream of income. Such tenacity kept students like Ms. Susan Culmer bright eyed and bushy-tailed throughout the entire class.
An accountant by profession, Susan is a consummate crafter by passion. In fact it appears that she is interested in all things creative. The moment you step through the doors of her home studio you realize that this lady eats sleeps and drinks crafts. If there are any natural resources on the island that can be used in any way, Susan has to be the go-to lady. Whether a seed, shells, leaves or get this, dried tops of coconuts…there is a collection of well organized supplies at her fingertips.
It's evident by her creations that her craft of choice is jewelry. Susan's jewelry includes many of the local seeds, including Knickles, Sandalwood, Bay Beans, Madeira Bark, Poor Mans Orchid, Mother-in-law's-tongue, and any other seed she can get her hands on. When it comes to using shells, Susan finds large shells and cuts them in to various shapes and sizes.
But her interests do not simply rest there; no, in addition to the crafts, Susan has her own brand of beautifully packaged and tasty native tea bags and crushed hot pepper. As the president of one of Eleuthera's craft associations, Susan saw the need to introduce her members to a new skill that would propel them to great heights with their products. Thats when she contacted BAIC to have a texture painting class in Eleuthera.
A little skeptical at first, having never painted before Susan was very cautious. After the first 15 minutes of painting, all caution was thrown to the wind as creative designs overflowed onto her surfaces. By the first evening Susan had pretty much mastered her flowers. By graduation, Susan had painted decorative bottles, earrings, clothing and so much more for her displays.
Upon completion of the class Susan noted that the experience was electrifying for her. In the past she had shied away from making handbags but now with the texture painting she is willing to take a fresh look at bag making. "I have already painted on some of my gift items, so it has already added value to what I am now producing. I am really thankful for this experience."
Asked where she would like to see her crafts go in the future, she responded matter-of-factly, "I'd like to see my name in lights!" Susan has such a passion for crafts that she wants her customers to experience the joy she felt when she was creating the product. "I don't know if that's possible for them to feel it, but I would like for them to look at the product and say "lots of love went into making this!"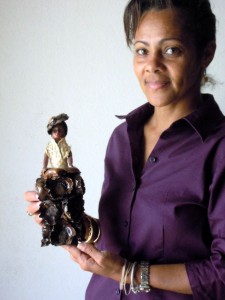 Susan says she has a greater appreciation of the environment and protecting what is ours.  She would like to ensure that the youth are taught the importance of what we have in The Bahamas and to keep our culture alive.  Not one to shy away from a challenge Susan wants to have a workshop that would teach others to produce products indigenous to The Bahamas. She believes once Bahamians are involved they would have a greater appreciation for what we have.